Since banks have been closing branches and more people are banking online, who in the world would buy a single tenant bank property? The answer may surprise you.
Bank leased properties saw increased demand despite some banks closing branches. In 2021, investor activity for all types of single tenant properties saw robust transaction volume in part from the scare of increased capital gains rates and the $1 million limit to the 1031 exchange at the time. Many market participants were motivated to makes moves ahead of the tax changes.
Online and Covid Impact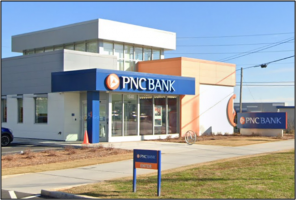 Decreasing in-store traffic due to the growth of online banking has resulted in the bank property sector extending its streak of negative net branch openings to 11 years. Covid exacerbated this trend and forced many more customers to bank online. However, some banks are continuing to open new locations. For example, Chase, Bank of America, and PNC all opened new branches over the last two years. In addition, Chase and Bank of America recently announced expansionary plans of 400 and 500 new branches, respectively.
The goal of opening new branches is to capture a greater market share through brand recognition. If you drive by a branch going home, there is a greater possibility you may choose to bank there.
Cap Rates
Bank leased properties are selling well.
So much so that bank cap rates have been compressing since mid-2020. U.S. bank caps were averaging around 6.17% in mid-year 2020 and are now down to an average of 5.4%.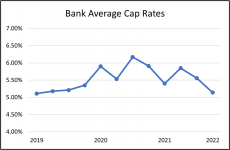 Investors like the safety of bank tenants. Depending on remaining lease terms, bank cap rates are as low as 4% in some markets. As we write this in the first quarter of 2022, cap rates on banks with 5 or more years remaining on the lease term are ranging from 4.34% to 5.77%.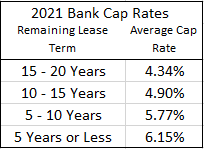 For Example, we sold a well-located PNC bank for $4,787,500 at a cap rate of 4% in 2021. The bank was new with a 20-year lease with 10% escalations every five years.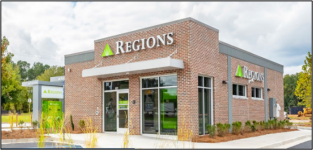 Another example being a Regions ground lease we sold for $3,590,000 at a 4.8% cap rate in 2021. The lease was 15 years with 10% escalations every five years.
Forecast
The market is still riding high on the momentum from 2021. Properties well-marketed are still bringing 2021 range cap rates.
The federal reserve has announced that we should expect multiple increases in the federal funds rate in 2022. As interest rates rise, we expect cap rates for bank properties to increase. However, investors seeking capital preservation over returns will keep net lease banks popular.
Ben Barrett
404-876-1640 x110
Ben is a commercial real estate broker specializing in net lease investment sales. Ben studies property values, investment strategies, and capital market trends to properly advise clients.